A rugged, ready-to-fly commercial drone
The DJI Matrice 300 is a sophisticated and durable aerial drone. It can carry up to three cameras or similar accessories that can be configured for mapping, inspection, law enforcement tasks, and more. Built-in RTK (real-time kinematics) can be enabled to provide exceptional positioning and surveying accuracy.
The two included flight batteries keep the drone aloft for up to 55 minutes. And the included charging station can fit up to eight flight batteries and four controller batteries inside its rugged integrated case for simultaneous charging.
The drone's durable, weather-resistant frame is rated IP45, so it can get the job done in adverse conditions. A highly sophisticated six-direction positioning and obstacle avoidance system offers pinpoint control and top-notch flight safety.
Superior flight control
The included DJI Smart Controller Enterprise makes it easy to design, record, and repeat flight plans over multiple missions. It features a 5.5-inch touchscreen that delivers crucial information in real time and and allows you to select points of interest on the fly. The controller's state-of-the-art Primary Flight Display (PFD) integrates flight, navigation, and obstacle information on one screen for total situational awareness.
The controller's built-in DJI Pilot app offers several impressive features:
identify and follow moving subjects with Smart Track
PinPoint lets you tap an onscreen object to mark it and tag its coordinates
information about selected objects can be overlaid to different camera views, shared with other controllers, or uploaded to the web
create up to 65,535 waypoints and set multiple actions for one or more payloads at each location
onboard AI recognizes and remembers subject of interest for consistent framing across missions
the app's Health Management System displays system status and flight logs
OcuSync Enterprise enables a transmission range up to nine miles for high-resolution 1080p video. Real-time signal optimization and automatic frequency hopping between 2.4 and 5 GHz bands helps avoid transmission interference. AES-256 encryption keeps your data secure.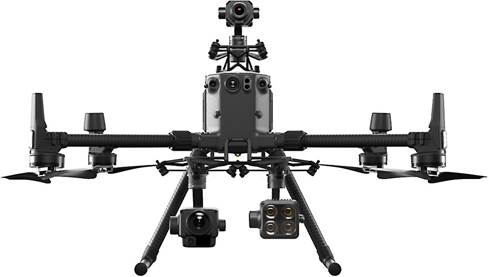 The Matrice 300 can carry up to three cameras or similar accessories (not included) for maximum mission efficiency.
Payload flexibility
In the early days of commercial drone use, pilots often had to take multiple passes at a single task, swapping out cameras to get different types of data. The Matrice 300 can carry up to three cameras or similar compatible accessories at one time, for maximum efficiency. It's compatible with Zenmuse H20, Zenmuse H20T, Zenmuse XT2, Zenmuse Z30 and Zenmuse XTS cameras.
Customizable software
The Matrice 300 can do most tasks straight out of the box, but DJI offers flexible software development kits (SDK) that allow experienced programmers and pilots to customize the drone's functions. Onboard SDK lets you tweak the drone's internal software, and Payload SDK allows you to harness the possibilities of the multi-accessory payload capacity. Mobile SDK aids in the development of custom apps.
Replacement plan for damaged equipment
The included Enterprise Shield Basic plan covers two product replacements for damaged DJI drones and payloads (with some exceptions) covered by the plan within the one-year coverage period, at a small corresponding fixed fee. Replacement products issued under Enterprise Shield Basic meet new product performance and reliability standards.